Small Bag Wet Wipes Machine
Automatic wet wipes packaging machine, suitable for 1-10 pieces of wet wipes machine, its operation is simple and stable. The parts that come into contact with the liquid are all made of stainless steel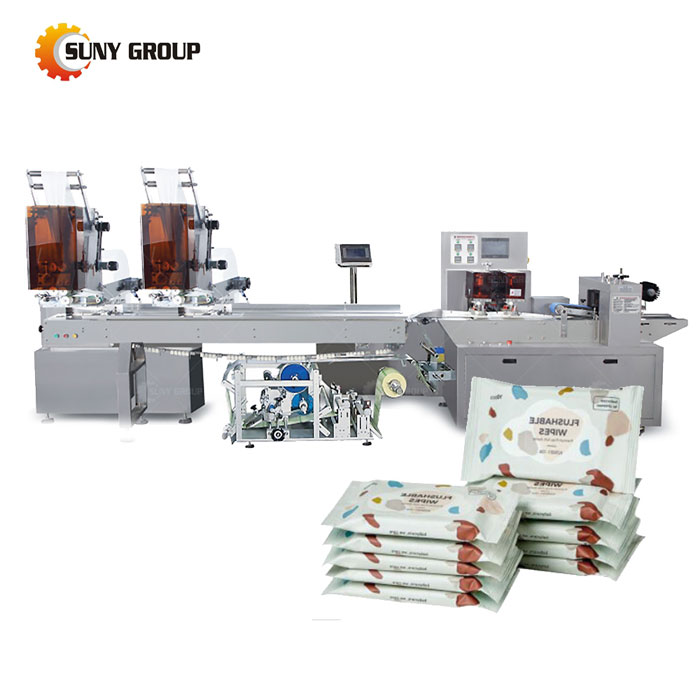 Automatic wet wipes packaging machine, suitable for 1-10 pieces of wet wipes machine, its operation is simple and stable. The parts that come into contact with the liquid are all made of stainless steel, and the whole machine is controlled by PL C, and the machine is beautiful.

The workflow of the automatic wet wipe packaging machine is to fold the base paper, add liquid, cut the length, count the stack, and then automatically transfer it to the packaging machine for packaging. All the processes are completed on the machine from raw materials to finished products, and the production process is fast. health.

The equipment for producing 1-10 wet wipes has a high degree of automation,simple equipment and integrated installation-free model, which allows you to make small investment and gain more benefits. There are three models of this equipment for you to choose from, with different models and different prices.Please contact us for detailed quotations:

TYPE1.1-10pcs wet wipes can be produced, and the number of wet wipes can be adjusted at will.

TYPE2. Low-speed towel machine producing one piece of packaging, the production speed can reach 200 pieces/min

TYPE3. produce one piece of packaged high-speed wet wipes with a production speed of over 300 pieces/min.

TYPE 1 Technical specifications

Production Capacity

30-600 pcs/min

Depending on packing materials

Packing Size

L110-300mm, W40-130mm,H10-65mm

Designed according to users' requirements

Folding method

Horizontal: Maximum 2 fold 1-10 fold in length (freely adjustable)

Wipes material

Non-woven fabric The maximum diameter:1.1m

Cut size

L 100-280mm,W 100-280mm,

Rated Frequency

50Hz/60hz

Rated Voltage

AC220V

Total Power

4.5KW

Weight

1500kg

Overall Dimension

(L*W*H) 4670*820*1500mm

TYPE 2 Technical specifications

10-220 Bags/min (can adjust) Depending on packing materials

Packing Size

L100-300mm,W40-1 10mm,H10-30mm (can adjust)

Max non-woven film size

L 100-260mm,W 100-260mm (can adjust)

Rated Frequency

50Hz/60hz

Rated Voltage

AC220V

Total Power

2.5KW

Weight

700kg

Overall Size

(L*W*H) 2100*1 500*1 600mm

Folding method

Horizontal: Maximum 2 fold

Portrait: 1-10 fold (can adjust)

Date printer

3 lines

1. Double inverter control, the bag length can be set and cut, no need to adjust empty, one step in place, saving time and film.

2. Human-machine interface, parameter setting is convenient and quick.

3. With fault self-diagnosis function, the fault display is clear at a glance

4. High-sensitity photoelectric eye color tracking, digital input sealing position, making the sealing and cutting position more accurate.

5. Temperature independent PID control, better suited to a variety of packaging materials.

6. End sealing horn device, the bag shape is more beautiful, and the product grade is improved.

7. Positioning stop function, no sticking knife, no waste packaging film.

8. The equipment is equipped with two sets of servo motors; computer touch screen control panel; equipped with imported photoelectric eyes, high tracking accuracy, easy adjustment; equipped with date printing device.

9. The transmission system is simple, the work is more reliable, and the maintenance is more convenient.

10. All control is realized by software, which is convenient for function adjustment and technical vitality, and never lags behind.